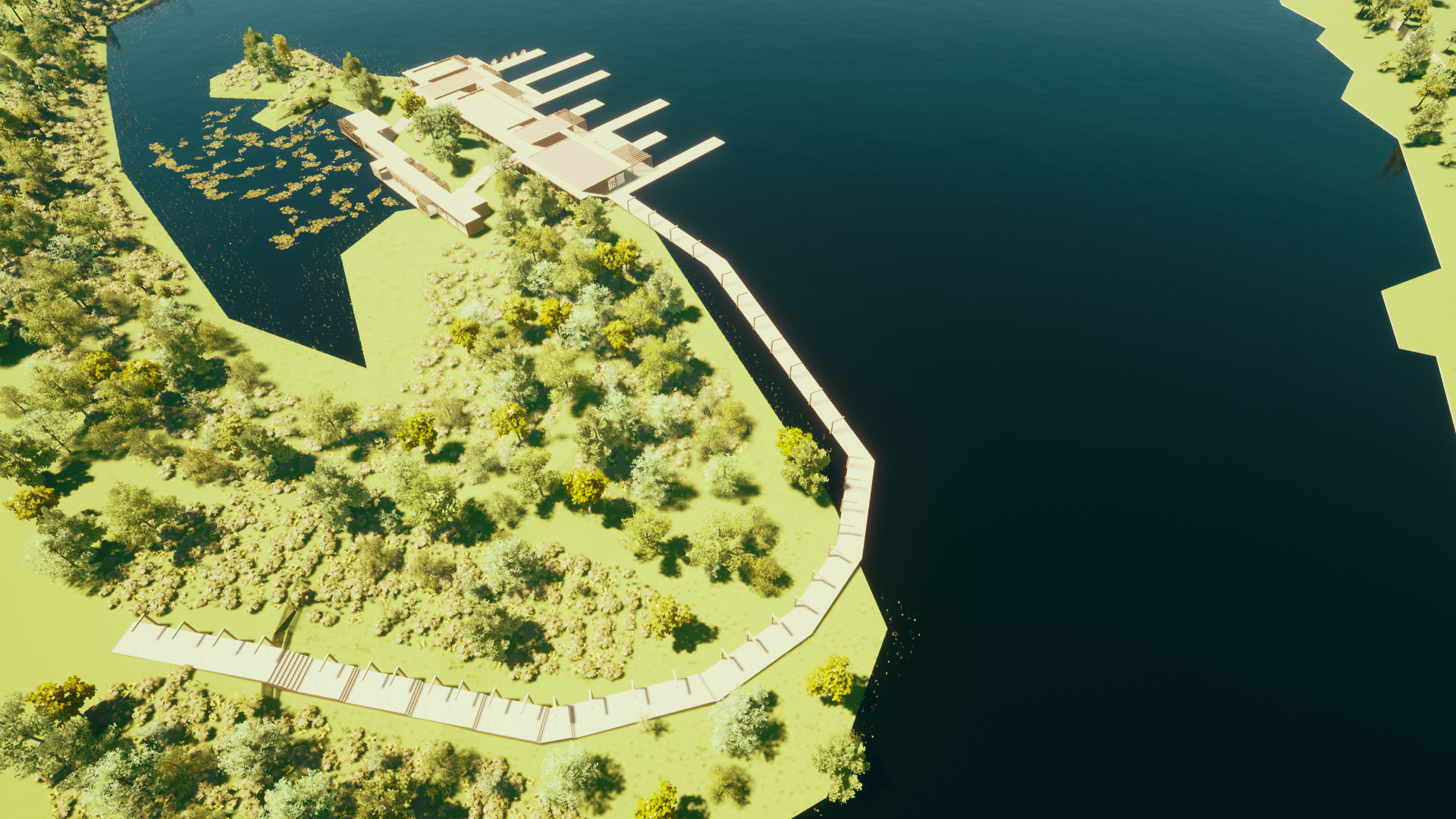 Jimbolia Water Sports and Experience Centre – Diploma
At the beginning of my degree course I chose a topic in which I had complete freedom. The mining lakes of Jimbolia provided a great opportunity to take a chance and let my imagination run wild. Since it is a vast area with peninsulas, narrow paths, steep slopes and many clear or even wooded areas, I had a lot of ideas.
I felt it was important to give meaning to lakes that are currently only used for hobby fishing, providing a unique aquatic experience with a variety of options for different recreational activities. I also felt it was extremely important to minimise the amount of green space and thus preserve the overgrown landscape that nature has built up.
This is how the idea of creating the Jimbolia Water Sports Centre, a mini harbour town-like adventure complex, was born.
The complex offers a wide range of experiences for visitors, who can try out various water sports and even organise competitions. The main idea was to combine the separate lakes with smaller gorges, so that they could be accessed by different watercraft. So, for example, if someone wants to go boating or canoeing in peace and quiet, they can paddle out to a less noisy lake using the connecting routes, while those using jet skis and motor boats can enjoy the biggest lake. This could be a multi-day or weekend getaway, so I've set up a range of accommodation types and capacity, so you can even have a long weekend class trip. As these experiences are best enjoyed during the day, I have also created several communal spaces, including a relaxation panorama room for the guests to unwind. Visitors can also make use of the facilities of the hot kitchen, but there is also a cocktail bar and a tea kitchen. The cocktail bar's communal area also includes a lecture area where they can demonstrate the correct use of the craft, explain the rules of the place and organise musical evenings to enhance the experience.
For me, it was an experience to dream up and design this complex, because we are talking about a vast area where the design was about the difficulties of nature, not the limitations of the city. I think the challenge was mostly to create an experiential space that could take full advantage of the clay quarry site and bring it back to life. As architects, we often have to decide how much we want to interfere with nature and the main question is how we can do that.
Author: Kovács Attila – The Department of Architecture Faculty of Engineering University of Debrecen
Source: Építészfórum