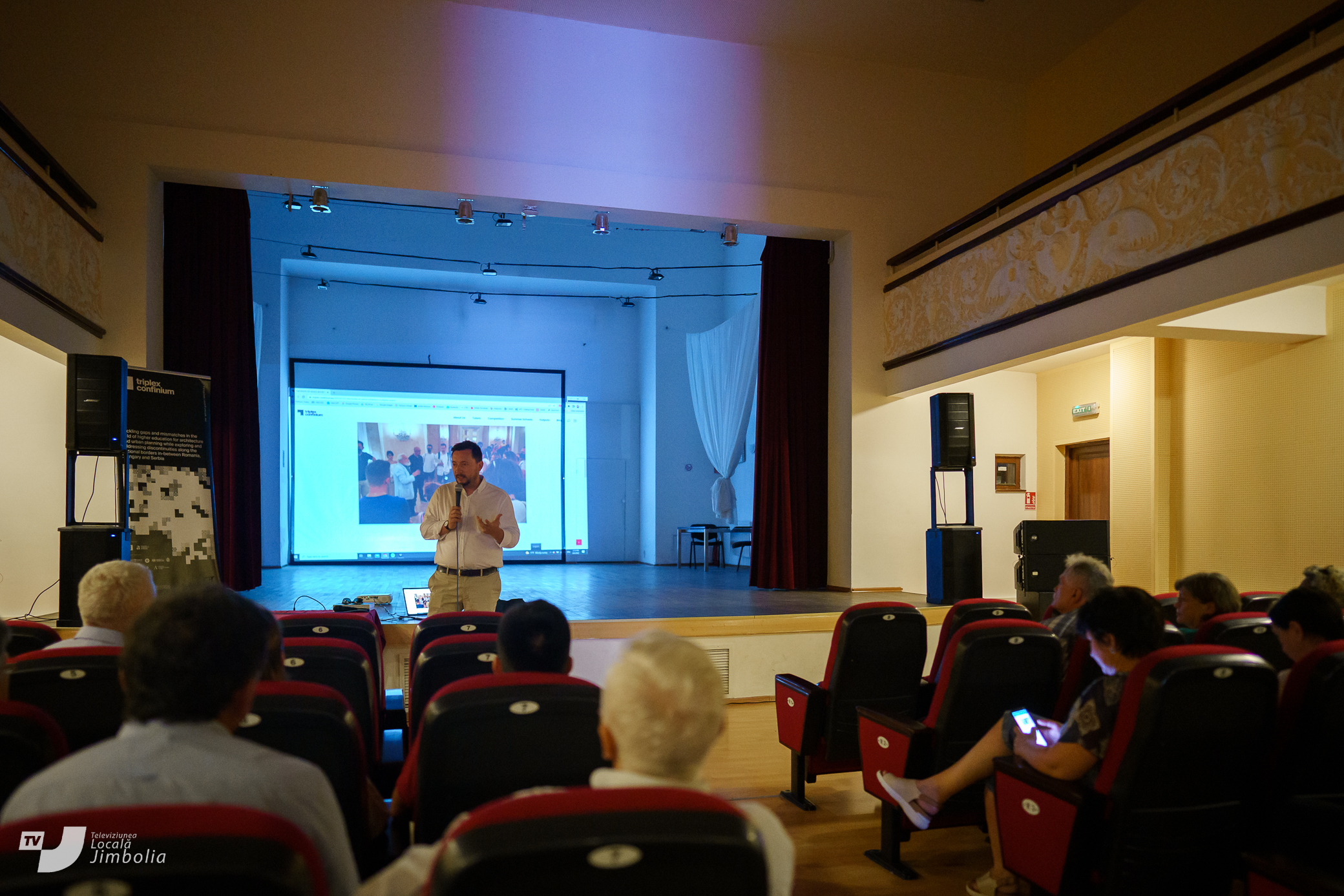 Jimbolia Together (EXHIBITION + MULTIPLIER EVENT)
The House of Culuture in Jimbolia
03/08/2022
On our last official day of our project we visited Jimbolia, once more, for our final multiplier.
During the event our Think Brick Exhibition was debated for the first time within its home community. Prior to our arrival, the exhibition had been on public display in the courtyard of the Jimbolia Culture House, between 29th and 31st of July as part of the The Jimbolia Days Festival. 
If the Timisoara multiplayer was targeted at young architects and academics from the region, while the Venice focused on students, the multiplier event in Jimbolia was targeted towards the prominent members of the local community, administrators, public officials, citizens. Among our many distinguished guests we were truly honored to have  Mr Josph Koch, honorary citizen of Jimblia and president of Heimatortgemeinschaft Hatzfeld,  as part of our audience.
 Our main objective was to highlight several research components of the teaching modules, their relevance for the competition, and the impact of Think Brick on future participatory processes. We strongly believe the sustainability of the competition idea can be observed  in its impact within the targeted communities. While during  the Timisoara multiplier there was agreement on the need for project driven research and competitions in less known territories, it was here, in Jimbolia, that we needed to test first and foremost the sustainability of this concept.
During the Jimbolia Lakes from vision to action segment of the event, Assistant professor Cristian Blidariu, project manager for Triplex Confinium, presented the findings of our Summer school and explained the research methodology. Emphasis was put on the importance of public consultation and on participatory processes in establishing a design solution. This has been a fundamental action during the collection of data as well as in the later stages of the competition during the dissemination of results period. 
Think Brick Jury member, Sergiu Petru Dema, manager of the Jimbolia house of Culture assisted the talk and presentation. Mr Dema described the jury works, the criteria for selection, and the overall importance of the process.  
An important segment of the presentation was directed towards the future KDK survey that will be implemented by The Regional Development Agency. Triplex has established relations with the BlFD and ADR Vest as far back as 2021, when Triplex team members took part in the KDK Jimbolia workshop and vice versa. During this exchange Triplex Confinium partners discovered several juxtapositions between the design of our research methodology and the KDK methodology. We used this knowledge to explain to our audience the ways in which both methodologies can coexist and enhance Jimbolia strategic planning for safeguarding ist local heritage, culture and relevant buildings.  
The event ended with an interesting debate, through which several opinions were collected on both the outcomes of the competition as well as the problems facing Jimbolia in the near future. An online questionnaire, collecting opinions and suggestions on the presented topics  was also advertised.